Services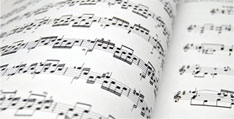 Musicological analysis and comparative expert opinion of
existing pieces (such as the assessment of plagiarism, co-versions and arrangements in civil disputes or settlements)
soundalikes (such as in compositions for advertising purposes)
professional notation and transcription of music, including full-score transcription
Examination of music or musical excerpts in order to determine whether a given piece music is already known through
software and extended networks
technical analysis and comparison of musical excerpts through state-of-the art studio technology (verification of samples or individual parts).
Education
Matthias Pogoda studied classical music, jazz and popular music at the Hamburg University of Music and Theatre (Hochschule für Musik und Theater Hamburg).
While there, he studied musicology with Prof. Dr, Hermann Rauhe, one of the best-known musicologists in Germany.
This educational background, as well as his experience as a performing musician, not only guarantees his competence as an expert in all musical styles but also in the professional musicological judgment of popular music.